While no one has a crystal ball, forecasts point to more market volatility in 2023, blurring the bid/ask spread on real estate deals. Liquidity seems to have contracted slightly, but cash is still flowing easily. Global crisis across the globe in Ukraine, Russia and China has hindered the supply chain and inflated prices across the world. Some relief may be in store as a potential war in eastern Europe cools and the massive disruption and loss from Covid-19 finally begins to dissipate. Still, in these early days of 2023, it seems that recessionary pressures will likely take hold this year, further impacting interest rates, CPI, and employment, to name a few. In the face of a rapidly changing market, we've taken the year of 2022 in review to inform our insights on the world of urban real estate for the year ahead.
#1 2023 may not be a market for Sellers or Buyers, but that depends on which market and which price point.
With mortgage rates still on the rise as the Fed attempts to moderate a soft landing for the economy, compression in home price growth will not be enough for the housing market to shift to buyers' advantage. Instead, homebuyers and investors will begin to see inventory grow, while costs will remain high, challenging affordability at a time when overall personal savings begins to dwindle in the face of recession.
Still, inventory forecasts for 2023 remain anemic compared to inventory levels during pre-pandemic 2019. As a result, high demand metro markets will likely see growth in excess of the 5.4% growth that Realtor.com forecasts nationally for 2023 home values. In these sought-after markets, cash buyers will take advantage of any price softening, further propping up home pricing for the sub $2 million dollar price point on the east and west coasts, once again defeating entry-level and move-up buyers who must rely on mortgage financing to assume home ownership. Multi-million dollar homes, usually more of a discretionary purchase, however, are already feeling the pain of a declining market, and much of the gain earned in 2022 could be considerably eroded in 2023.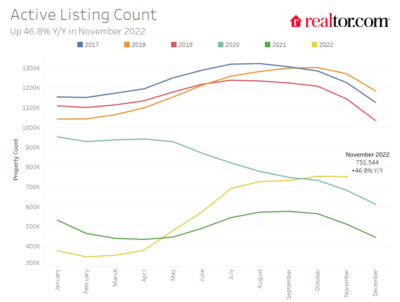 #2 Build-to-rent single family dwellings are 'in' as the new exit strategy for homebuilders.
In 2022, scores of homebuilders sought a viable path to profitability with each new groundbreaking, landing on the build-to-rent model. In the face of rapidly increasing mortgage rates, monthly mortgage payments have increased an astounding 40% during the last six months, pricing out nearly 15 million renters seeking the dream of home ownership. Still, the pandemic renewed a collective longing for open spaces, backyards, privacy and security offered by single-family homes and in a climate of fewer qualified buyers, builders are turning to renters, offering the chance to rent the 'American Dream' in perpetuity. Will an entire generation miss the chance for wealth creation and the 'American dream' of homeownership and be forced to remain life-long renters? It seems the FED and the homebuilding industry might be banking on it, at least for the foreseeable future.
#3 Offsite Construction, Modular Builds, & 3D Printed Homes
Technology is advancing at a fever pitch and 2023 is the time to shine for modular construction, offsite builds and 3D printing of major home components. In addition to builders getting creative with Build-to-Rent strategies that help increase the bottom line, this new wave of construction innovation is quickly augmenting and replacing antiquated building practices, promising economies of scale and reduced time to market as builders seek to improve their bottom line. With material and labor costs skyrocketing in the face of Covid- 19, builders have been struggling with extended project cycles, requiring as much as 180 days to complete and deliver a home. With a renewed commitment to modular construction and the addition of 3D printing technology, the construction process can be highly controlled, reducing materials waste, allowing for greater efficiency, and less reliance on human labor, all leading to reduced carry costs and swifter path to operating revenue. Expect to see many more like ICON/Lennar's Big Wolf Ranch development in Austin, TX. Other 3D-printed residential projects in the United States include the first two-story 3D-printed home designed by Hannah in Ithaca, New York and 3D-printed homes in California that construction company Mighty Builders claims are the world's first to achieve net zero.
https://www.businessinsider.com/2023-new-year-of-3d-printed-homes-us-photos-2022-12
https://qz.com/us-housing-market-slump-could-help-modular-homebuilders-1849933054
#4 Varied-Use Spaces & Placemaking in Condo & Multifamily
Condo, apartment and master plan developers are now responding to a new demand from consumers, who learned a lot about their space needs during the peak of #workfromhome Now, builders are tossing aside obscure common area uses suggested by the Marketing department, i.e. the 'tea room,' and the 'rock climbing wall,' in exchange of common spaces designed for a myriad of uses including group events, co-working, coffee meetings, community classes, etc.
Builders and operators have learned that creating separation and 'ownable space' in common areas is critical to resident comfort. Ergonomics, thoughtful acoustics and electrical connectivity must be considered as 'standard' in today's market, as value engineering these components from projects will most certainly lessen perceived value in the eyes of seasoned #wfh buyers and renters who now notice these subtle omissions to amenity programming.
Connection to outdoor living space and nature will continue to be at the top of buyers' lists this year. Savvy developers of attached product who watched their buyers and tenants flee to the suburbs in 2020 in search of more space and a yard, won't make the same mistake twice. Expect to see natural elements and seamless connection of indoor/outdoor spaces in the next generation of attached living projects in 2023.
#5 A New Paradigm for Office
The Office sector as an asset class has been decimated in some regions of the country, following what was a mass exodus of residents and businesses from major urban cores throughout the country during the height of the pandemic. This, combined with a strong and persistent cultural shift to #workfromhome over the last two years, has left many downtown cores a ghost town, riddled by vacancy not seen in decades and with few new prospects as companies downsize and consolidate their office footprints.
What to do with all these empty office towers that seem destined to languish? In a climate of woefully undersupplied housing stock, adapting vacant office space for conversion to residential units seems an obvious repurposing, but this type of conversion is not a turn-key solution to the housing crisis. While about 35 projects each year have been converted for residential use over the last five years and that number is expected to double in the near future, the formula only works for a small number of office buildings.
Developers often find that the cost to retrofit an office building can actually exceed the cost of ground up development, not to mention jurisdictional roadblocks that may further reduce feasibility, depending on the market.
Meanwhile, office brokers, owners and would-be tenants alike continue to brainstorm new iterations of office life that will give businesses the confidence to commit to new spaces, hoping to lure employees back to their cubicles with a new menu of perks.
One way or another, the Office sector is in for a year of continued change and further reinvention in 2023. Pop the popcorn and stay tuned!
If you made it this far, thank you for taking the time to read the first edition of The Urban Pulse! I welcome your feedback, questions or requests for next month's edition, so please be sure to reach out and let me know your thoughts! Wishing you much success and new horizons in 2023!
Skyscraper Becoming 1300 Apartments – Largest Resi Redo Ever